General Garden Maintenance in West Lothian
In order to keep your entire garden looking at its best, it's not always just about tending to the lawn or keeping the hedge in shape.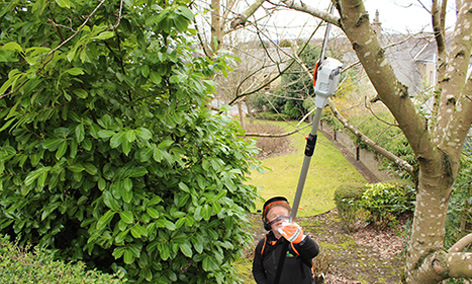 GF Garden Services can ensure that your entire garden is managed and maintained. This can include:
Regular weeding of planted areas
Litter picks
Seasonal Pruning
Thinning out shrubs and tree pruning
Relocation of plants
Planting new stock
Soil Improvement Treatments
Weed Control on hard standing areas with the use of controlled pesticides.
contact us
Shrub and Tree Pruning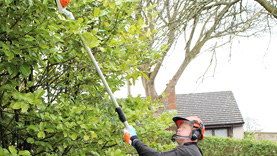 Shrubs and Trees can often outgrow their space if left unchecked can quickly start to dominate the plants around them.  At GF Garden Services we can arrange for these to be pruned and shaped at the appropriate time to ensure continual flowering.
Any overhanging or troublesome tree branches can also be dealt with.  With the use of a telescopic Pole Pruner, branches to a height of 5 metres can be safely cleared from the main trunk allowing light back into the garden.
Please note, GF Garden Services will always observe the Wildlife & Countryside Act 1981 with regards nesting birds, when asked to remove any tree branches.
Weed and Fertiliser Spraying
At times, it will be beneficial to apply fertilisers to help feed the soil, grass or apply appropriate pesticides to deal with moss, weeds and the variety of pests which often attack our gardens. (Plant Protection Products – (PPP's))
Following changes in legislation in November 2015, it is an offence for anyone to purchase PPP's for professional use without a valid Certificate of Competence.  GF Garden Services fully complies with this new legislation.
Border Maintenance
Planted borders are always an attractive addition to any garden, they offer a wealth of colour, smell and beauty all of which will change throughout the seasons. A well maintained and carefully stocked border sits perfectly alongside a neat lawn.
GF Garden Services can ensure that your borders always look their best by ensuring their edges are defined, regularly weeded and plants dead headed to encourage prolonged flowering.  Topsoil can be aerated and if required, soil improvement treatments can also be arranged to help boost soil nutrients.
Seasonal pruning and shaping of shrubs can also be carried out and failing plants can be removed or transplanted to more appropriate locations within your garden.