Hedge Care in West Lothian
Hedges require formative pruning on planting, plus maintenance trimming to keep them within bounds and looking their best.  Pruning times will always vary depending on the type of hedge.
Dependant on the type of hedging, consideration must also be given to any nesting birds. It is illegal under the Wildlife & Countryside Act 1981 to damage or destroy the nest of any wild bird while it is in use or being built. The bird nesting season is usually considered to run from 1st March to 31st July (though it may last longer for certain species or multiple broods). GF Garden Services will always check with the relevant authority if in any doubt whilst assessing your hedge.  A trimming schedule will also be agreed with you.
Care & Attention
Hedges will be trimmed and shaped using a professional battery-operated hand tool. An additional telescopic cutter may also be employed to reach higher areas.  This equipment is generally quieter than its petrol sisters and is, therefore, more environmentally friendly.
All hedge cutting is carried out observing current Health & Safety Guidelines.
Hedge Cutting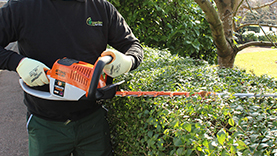 A nice neat hedge is always an attractive feature to any garden they provide texture, colour and shape and whether they are formal or informal, GF Garden Services can ensure that they always look their best.
High Hedges
We can safely deal with the maintenance of higher hedges up to 15 feet.  Our telescopic hedge cutter ensures that no ladder or scaffolding is required and allows total control and ease of movement.  This cutter can also be adjusted to allow a top line to be provided.
Topiary and Hedge Shaping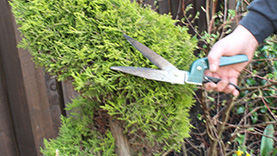 Many gardens have feature planting such as topiairy.  We are happy to help maintain the existing shape of your plants when required,